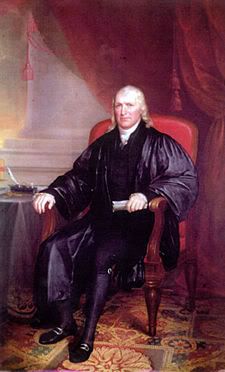 Samuel Chase
United States
Founding Father
(1741 - 1811)
Samuel Chase (April 17, 1741 – June 19, 1811), was an Associate Justice of the United States Supreme Court and earlier was a signatory to the United States Declaration of Independence as a representative of Maryland. Early in life, Chase was a "firebrand" states-righter and revolutionary. His political views changed over his lifetime and in the last decades of his career he became well-known as a staunch Federalist, and was impeached for allegedly letting his partisan leanings affect his court decisions. Chase was acquitted.
Religion: Episcopalian
Subscribe to Samuel Chase Quotes Feed
Quotes by Samuel Chase
---
By our form of government, the Christian religion is the established religion; and all sects and denominations of Christians are placed upon the same equal footing, and are equally entitled to protection in their religious liberty."
-= Unknown =-
---
The jury has the right to determine both the law and the facts.
-= Unknown =-
---
Showing results 1 to 2 of 2