ADVERTISMENT
Buy Backlinks

Religion: Congregationalist
William Ellery on Founding Fathers Wiki Page


William Ellery Biography


William Ellery, the son of a gentleman of the same name, was born at Newport, on the 22d day of December, 1727. His ancestors were originally from Bristol, in England, whence they emigrated to America during the latter part of the seventeenth century, and took up their residence at Newport, in Rhode Island.

The early education of the subject of this memoir, was received almost exclusively from his father, who was a graduate of Harvard university; and who although extensively engaged in mercantile pursuits, found leisure personally to cultivate the mind of his son. At the age of sixteen, he was qualified for admission to the university, of which his father had been a member before him. In his twentieth year, he left the university, having sustained, during his collegiate course, the character of a faithful and devoted student. In a knowledge of the Greek and Latin languages, he is said to have particularly excelled, and through the whole bustle of his active life, until the very
... [Read FULL Biography]



William Ellery Genealogy

Parents:
William Ellery (1701 - 1764)
Elizabeth Almy Ellery (1703 - 1783)

Spouse:
Ann Remington Ellery (1724 - 1764)

Children:
Lucy Ellery Channing (1752 - 1834)
Ann Ellery (1755 - 1834)
Lucy Channing Ellery (1819 - 1832)

Sibling:
Benjamin Ellery (1725 - 1797)



Events in the life of William Ellery
Date
Event

---

1727 12/22
Birth of William Ellery
1820 02/15
Death of William Ellery
... View Founding Father Timeline


Picture of William Ellery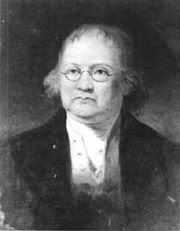 Videos about William Ellery
William Ellery Channing: Discourse on Spiritual Fr
William Ellery Channing: Discourse on Spiritual Freedom 1830 Excerpts read by Charles Bryant I do not often read sermons. But when I came upon this discourse, I was immediately struck by its truth and power. It was given by Dr Channing in 1830,
Biography for William Ellery
(1727 - 1820)
Biography for William Ellery
(File Size: 10.50K)
...
More from The Digital Public Library of America
Quotes by William Ellery
Tweet To be prosperous is not to be superior, and should form no barrier between men. Wealth out not to secure the prosperous the slightest consideration. The only distinctions which should be recognized are those of the soul, of strong principle, of incorruptible integrity, of usefulness, of cultivated intellect, of fidelity in seeking the truth.
Tweet The cry has been that when war is declared, all opposition should therefore be hushed. A sentiment more unworthy of a free country could hardly be propagated. If the doctrine be admitted, rulers have only to declare war and they are screened at once from scrutiny.
Tweet Error is discipline through which we advance.
Tweet I call the mind free which jealously guards its intellectual rights and powers, which calls no man master, which does not content itself with a passive or hereditary faith...
Tweet To live content with small means, to seek elegance rather than luxury, and refinement rather than fashion, to be worthy, not respectable, and wealthy, not rich, to study hard, think quietly, talk gently, act frankly, to listen to stars and birds, to babes and sages, with open heart, to bear all cheerfully, do all bravely, await occasions, hurry never, in a word to let the spiritual, unbidden and unconscious, grow up through the common, this is to be my symphony.
..
Read all quotes by William Ellery
Discussion