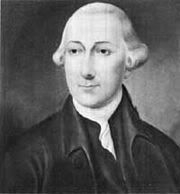 Joseph Hewes
United States
Founding Father
(1730 - 1779)
Joseph Hewes (January 23, 1730 – November 10, 1779), was a native of Princeton, New Jersey, where he was born in 1730. Hewes's parents were part of the Quaker Society of Friends. Immediately after their marriage they moved to New Jersey, which became Joseph Hewes's home state. Hewes was formally educated at Princeton and after college he became an apprentice of a merchant. After finishing his apprenticeship he earned himself a good name and a strong reputation, which would serve him well in becoming one of the most famous signers of the Declaration of Independence for North Carolina, along with William Hooper and John Penn. After a few years as a successful merchant, he became very wealthy. Hewes moved to Edenton, North Carolina at the age of 30 and won over the people of the state with his charm and honorable businesslike character. Hewes was elected to the North Carolina legislature in 1763, only three years after he moved to the state. Second to the delegates of Massachusetts, Hewes was a pioneer of independence who influenced his state to be more rebellious during the years leading up to the revolution. After being re-elected numerous times in the legislature, Hewes was now focused on a new and more ambitious job as a continental confressman.
Religion: Quaker
Subscribe to Joseph Hewes Quotes Feed
Quotes by Joseph Hewes
---
Sorry, we currently do not have any quotes for this Founding Father.
Next 15 >>
Showing results 1 to 0 of 0