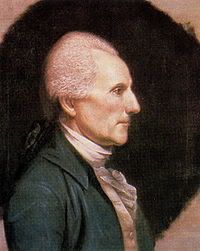 Richard Henry Lee
United States
Founding Father
(1732 - 1794)
Richard Henry Lee (January 20, 1732 – June 19, 1794) was an American statesman from Virginia best known for the motion in the Second Continental Congress calling for the colonies' independence from Great Britain. His famous resolution of June 1776 led to the United States Declaration of Independence, which Lee signed. He also served a one-year term as the President of the Continental Congress, and was a U.S. Senator from Virginia from 1789 to 1792, serving during part of that time as one of the first Presidents pro tempore.
Religion: Episcopalian
Subscribe to Richard Henry Lee Quotes Feed
Quotes by Richard Henry Lee
---
A militia when properly formed are in fact the people themselves... and include all men capable of bearing arms. . . To preserve liberty it is essential that the whole body of people always possess arms.
-= Senator, First Congress =-
---
That these united Colonies are, and of right ought to be, free and independent States, that they are absolved from all allegiance from the British crown, and that all political connection between America and the State of Great Britain is, and ought to be, totally dissolved....
-= Resolution for Independence to the second continental congress =-
---
The Constitution shall never be construed to prevent the people of the United States who are peaceable citizens from keeping their own arms.
-= Unknown =-
---
Showing results 1 to 3 of 3