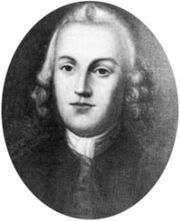 George Ross
United States
Founding Father
(1730 - 1779)
George Ross (May 10, 1730–July 14, 1779), was a signer of the United States Declaration of Independence as a representative of Pennsylvania. He was born in New Castle, Delaware and educated at home. He studied law at his brother John's law office, the common practice in those days, and was admitted to the bar in Philadelphia. Initially a Tory, he served as Crown Prosecutor for 12 years and was elected to the provincial legislature in 1768. There his sympathies began to change and he became a strong supporter of the colonial assemblies in their disputes with Parliament.
Religion: Episcopalian
Subscribe to George Ross Quotes Feed
Quotes by George Ross
---
Sorry, we currently do not have any quotes for this Founding Father.
Next 15 >>
Showing results 1 to 0 of 0